Your Reason To Become An Entrepreneur?
What is the reason why you are here, reading my post? Are looking for ways to become an entrepreneur? I mean, if so, congratulations.
Because only as an entrepreneur you are able to control your own future.
But many times people get started in the entrepreneurial business with the wrong intentions.
The reason for joining an MLM company, a network marketing opportunity or simply start marketing online, without any proper skill set, trying to build their own business is for the wrong reasons.
Things like
are results, not reasons. Also
getting out of debt,
firing your boss or
wanting to bay that dream house
are results and reasons.
If you want to become an entrepreneur you have to know you WHY.
There must be something that really drives you. For example your kids or you realize that working in a cubical for the rest of your life is not the thing for you.
The reason for becoming an entrepreneur and giving up all the "security" of a job should be coming from deep within.
Knowing your WHY is the most important step in your entrepreneurial lifestyle. Your WHY should not be related to money or motivated by material possessions, because if so, you'll never get to the HOW part.
Your WHY will determine whether or not you will complete the tasks that need to be accomplished in order to reach your goals (Your "How").
It is your passion that should be your reason to become a successful business owner an entrepreneur.
Knowing your WHY is something that you might want to wok on. For some people it is very clear, but for other it is not. They have to shift from results to reason.
Let's go over a few common and strong "WHYs".
Reasons for people to become an entrepreneur.
1. ) Their Children / Family
Before having a family, having your own children, life can be full of freedom. Like us, we traveled the world and didn't worry about a thing. We went from job to job and from country to country, living on the beaches of the world.
Then, somehow by the time you have kids, you get a "steady" job or start a brick and mortar business, because you want to provide for your family.
Suddenly, you realize that your freedom is gone. Your job isn't paying enough or your business is only running when you are there. And now you are living from pay check to pay check.
Personally, this has always been my WHY. This is a bit of my story.
2.) Their Freedom
Freedom can be the number 1 reason to become an entrepreneur. Although Freedom is something personal, it is often related to money. So if somebody says " I want to make 15K a month" it's not the money that is the reason but the freedom you can buy with it.
And whether that freedom is spending time with your kids or travel the world or just do the things you are passionate about is up to you.
Building somebody else's dream is what you are being paid for as an employee. Where as for an entrepreneur, you are building your own dream and business.
And the best thing about being a entrepreneur is you can wake up late if that's your thing or spend the whole day at the beach, what ever you like, if you are a successful entrepreneur you have the FREEDOM to do so.
Freedom is one of the many reasons why I'M  absolutely willing to ride the entrepreneurial roller coaster
3.) For Self Improvement and Personal Growth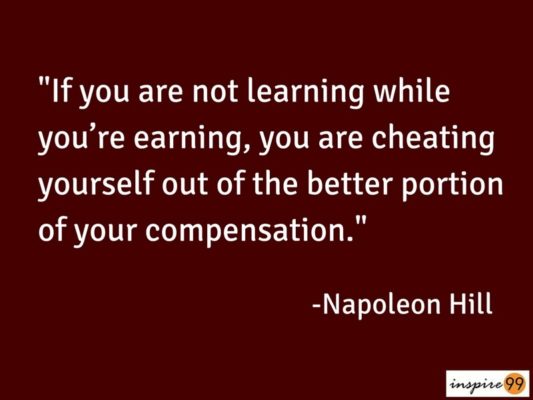 With out personal growth or without improving your skills , it's hard to become an entrepreneur.
As an entrepreneur you have to be able to be skilled in a wide verity of things. You must be able to put on different business hats. You are in a constant flow of problem solving and dealing Becoming an Entrepreneur is more than just running your own business. It is not only about becoming of more value to yourself and to others, but it is also about becoming a better person.
Continuous education will help you grow and help you with all the different aspect of running a business.
On the other hand there is the employee. They are trained to be good in one thing. Like making coffee as a Barista or handling customer phone calls. Often very specialized, but more then likely it is something that the person does every day. Day in Day out. They are paid to focus all their time and energy only on that one thing, a small part of the whole company
4.) For Satisfaction Being Proud Doing The Work
This was something that went through my mind and I started to ask around and most of the answers I got where similar.
The J.O.B, most of the times people talk about it as something temporary. Either they don't really like what the are doing (but oké, the bills have to be paid) or they soon will hope for a promotion of some sort.
But the truth is, it's hard to build somebody else's dream, it's hard t be satisfied or proud of doing stuff other people told you to do.
As an entrepreneur, all the recognition goes to you. You get all the credits. Whether it's an info product that you created or a team that you built it's your accomplishment, it's your work.
And Failure?
5.) Their Health
Health can be a very important and strong reason for building your own company. As an entrepreneur you can work on your own terms. Rest when you want to rest and work when you want to work.
Especially if you build an online business, you can work from anywhere in the world you like. You need fresh air? You work in the mountains or at the beach, it's up to you.
As an employee, you have only that much holiday and you always have to ask your boss for permission. And if you call in sick. they will come and check and basically other people will decide over you.
Be Free!
This was a big reason for me to get online and get out of the restaurant business. Always working late leaves a toll on your body.
We started building an online internet marketing company so we could do things on our term and we are FREE since.
If you interested in what we are building online Go here
6.) For Building Their Own Money Makers, Their Assets
All the reasons above are all emotion driven. But in the end, starting your own business is
just a smart thing to do.
Suddenly there are no restrictions, no limitations, there is only you.
As an Entrepreneur, you are choosing to exchange your time to build an asset which has the ability to pay you on the long run. And it is not the net worth of your employers that is growing, no, now every thing you put in your company will benefit YOU.
Of course you have to understand that having a business does not mean that it will become an asset for you. ( An asset is something that makes you money, your golden egg) It's up to you if you will grow along side with your company as a person.
However, with dedication, and implementation, there is no limit to what you can achieve.
As an employee on the other hand, you are choosing to exchange your time for money.
And most of the time, it's just enough to get  you by.
Because even when you get paid a lot, you will probably adjust your lifestyle according to your income and you keep having the same problem.
7.) To become a legacy and to make a difference.
Being a former social worker and restaurant owner I always wanted to have a positive impact on others. I always enjoyed educating and helping people.
The only thing was that it didn't pay enough and I couldn't afford my desired lifestyle.
So I started looking for different ways to do the same, with a bigger reward.
Leaving a mark can be done in different ways in life, you can become an artist or create an invention that everybody wants or building a business. These things will, if done well, outlast you.
By building your own business, you are not only increase your self-worth, but you are providing a product, a service and maybe even a job to people who need it. And if you do it right, your business can continue to thrive and help others long after you are gone.
Do You Know Your Why For Becoming an Entrepreneur?
If you are sick and tired of building somebody else's dream and want to change your life and become an entrepreneur it is very important to know your reason why.
If you don't have a strong reason, then it is very difficult to overcome all the challenges on your journey and you will probably quit and that is not why you started in the first place, right?
If you choose to build your own business rather than someone else's, if you choose entrepreneurship, it is important that you discover your "Why".
I'd love to hear your reasons (your "Why"), please Leave  comment below,
What drives you?
What gets you out of bed every morning?
What makes you have The Will To Win?
Let us know